Since 1959, Bell Construction has been building homes for families in the northeast Georgia area including Banks, Hall, Jackson, Lumpkin, and White counties. With over fifty years of experience, Bell Construction has become a preferred and sought-after builder. Being a fourth-generation homebuilding company, Bell Construction strives to implement a positive working relationship with every customer and deliver the home of their dreams, every time.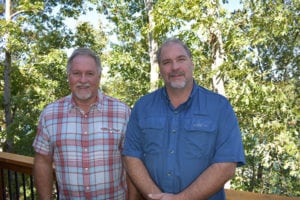 The Bell brothers, Ron and Reggie, offer a hands-on approach, and are readily accessible to customers at their convenience. Their dad, Robert Bell, started Bell Construction with the desire to create a company families could trust and feel comfortable about referring to others. He believed that his company's reputation should speak for itself.
Since then, the company has built passion, quality, and a commitment to excellence in every custom home. Bell Construction is proud to maintain their business based on referrals, some being the children and even grandchildren of their very first customers. By keeping this level of consistency in homebuilding, the company is also able to maintain a loyal and long-term relationship with subcontractors. This helps ensure a level of excellence that is hard for many homebuilders to match, because Bell Construction knows their subcontractors are able to produce high-quality work, and Bell gets excellent prices by providing their subs with consistent work, which equals better quality at a better value for their customers.
Trust your dream home and projects to Bell Construction. You won't be disappointed!